Happy Birthday PIZZA
By: https://dribbble.com/shots/8087178-Hang-Loose-Hot-Sauce
People around the world may have different opinions about all the food, But all of them agree on this:
"Pizza is awesome!"
Where did this love come from? We often associate pizza with Italian food. But do the Italians get the credit? Or did someone else make the very first pizza? There's not an easy answer. Different historians have different ideas.
A lot depends on how you define "pizza."
Do you think of pizza as a flatbread cooked in an oven? If so, its roots go back to ancient times in the Middle East. The ancient Babylonians and Egyptians ate flat bread baked in mud ovens.
Do you think a pizza has to have toppings? In that case, it dates back to the ancient Greeks and Romans. They both ate baked flatbreads topped with olive oil and spices.
Word pizza is Greek in origin, derived from the Greek word pēktos meaning solid or clotted. The ancient Greeks covered their bread with oils, herbs and cheese. The first major innovation that led to flat bread pizza was the use of tomato as a topping. It was common for the poor of the area around Naples to add tomatoes to their yeast-based flat bread, Today, we call this dish focaccia bread.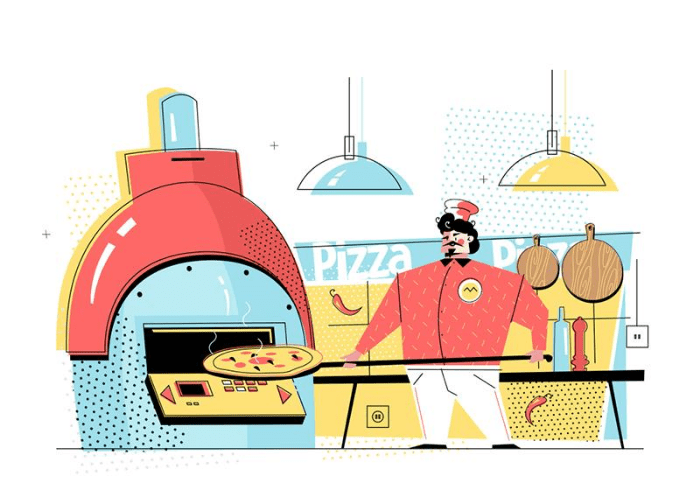 By: https://dribbble.com/shots/8807788-Man-baking-pizza
Its believed that modern pizza was first made by baker Raffaele Esposito of Naples.
A popular urban legend holds that the Typical pizza "Pizza Margherita" was invented in 1889, when the Royal Palace of Capodimonte commissioned the Neapolitan pizzaiolo Raffaele Esposito to create a pizza in honor of the visiting Queen Margherita.
Of the three different pizzas he created, the Queen strongly preferred a pie swathed in the colors of the Italian flag: red (tomato), green (basil), and white (mozzarella).
So,this kind of pizza was then named after the Queen as Pizza Margherita.
Today, pizza is one of the most popular foods in the United States and many parts of the world:
⦁ The first pizzeria, Antica Pizzeria Port'Alba, was opened in 1830 in Naples.
⦁ In North America, The first pizzeria was opened in 1905 by Gennaro Lombardi at 53 1/3 Spring Street in New York City.
⦁ The first Pizza Hut, the chain of pizza restaurants appeared in the United States during the 1930s.
There is no specific location where National Pizza Day is celebrated.
And the only one way to celebrate National Pizza Day, and that is by enjoying it in one of its many forms. Throw an office pizza party, go out to your local pizzeria and grab a slice, or simply take home a frozen pizza.
What are your favourite toppings?