E-COMMERCE SOLUTION
WANT TO SELL ONLINE?
DON'T GIVE YOUR PROFIT TO THIRD
PARTY WEBSITES.
LET US HELP YOU
IN BUILDING YOUR
OWN PLATFORM
E-commerce solutions are the products and services that help a company conduct business digitally. Our range of available e-commerce solutions is vast, including those that allow traditional businesses to design, create, and operate worldWide websites. Some solutions focus on a specific problem. Many of the e-commerce solutions that had emerged in the early 1990s began working to meet the changing e-commerce needs, as did many computer industry giants looking to position themselves as leading e-commerce players.
E-commerce isn't just about transactions anymore. We vigorously carry out all facets of your businesses online, from customer interactions to extended supply-chain management with trading partners. In addition to online transaction support, we provide full-fledged E-business, and that means we provide you with a Website that helps you build relationships with your prospect customers,be it in a business-to-business, business-to-consumer, or online marketplace model.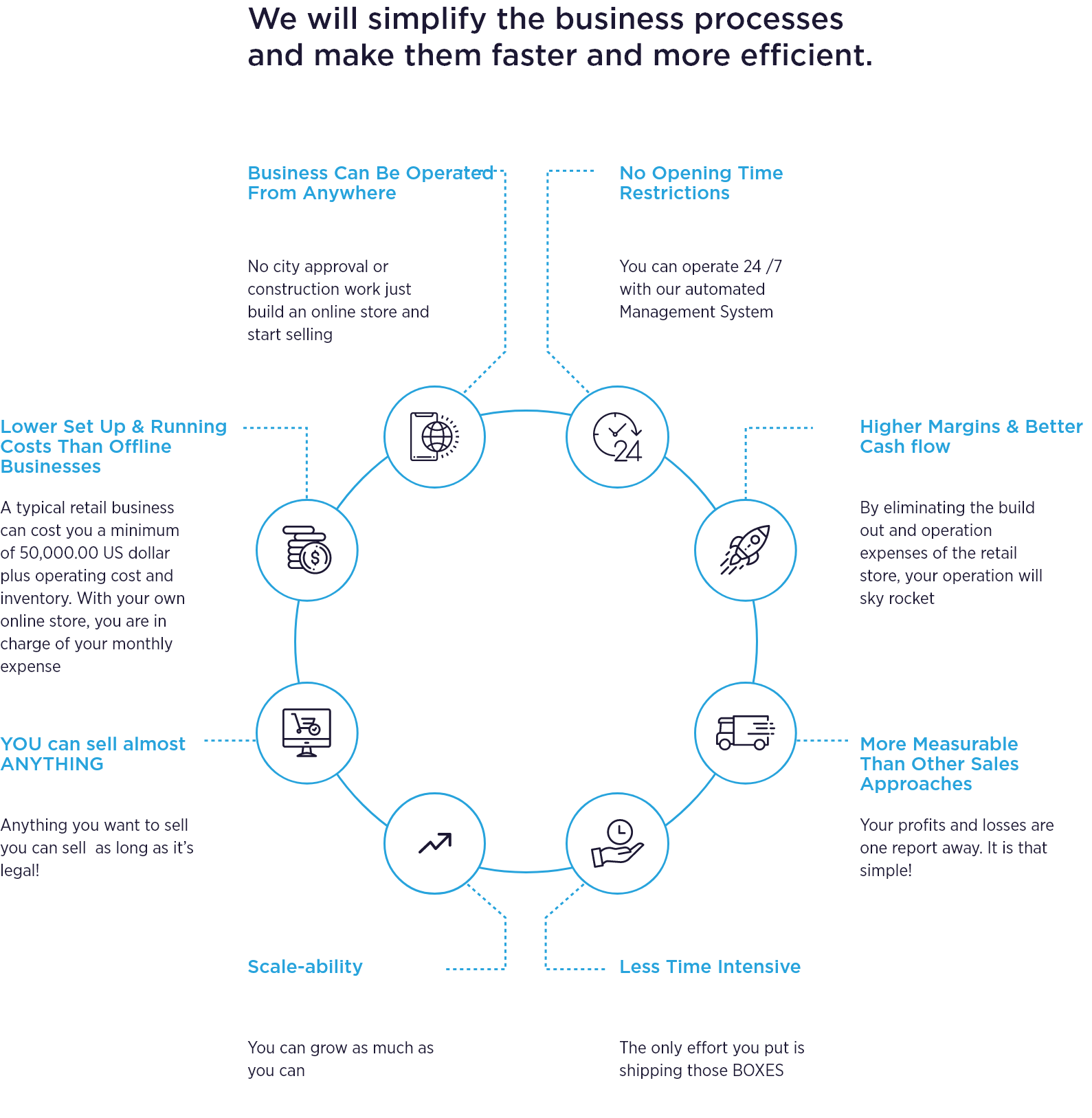 We will simplify the business processes
and make them faster and efficient.
The Business Can Be Operated
From Anywhere
No city approval or construction work just build the
online store and start the selling
No Opening Time Restrictions
You can operate 24 /7 with our automated Management System
Higher Margins & Better Cash flow
By eliminating build out and operating expenses of a retail a store your margin will sky rocket
More Measurable Than Other Sales Approaches
The only effort you put is shipping those BOXES
By eliminating build out and operating expenses of a retail a store your margin will sky rocket
You can grow as much as you can
YOU can sell almost ANYTHING
Anything you want to sell you can sell Of course as long as its Legal
Lower Set Up & Running Costs Than An Offline Businesses
A typical retail business can cost you a minimum of 50,000.00 US dollar plus operating cost and inventory With your own online store YOU ARE IN Charge of Your Monthly Expense